KANSAS CITY, Mo. — Preparation for the NFL Draft requires the ability to adapt to any situation that can develop throughout the week. Just as front offices conduct draft simulations to prepare for the draft, that's how Chiefs Digest approaches its mock drafts.
This first mock draft will be straightforward — no trades, no specific theme and hopefully nothing too crazy. We want to get the feel for how a run-of-the-mill draft might unfold, offering clues into whether the Chiefs should be ready to make a move to land a player they want. There won't be a specific them to this draft. We'll tackle scenarios such as landing an edge rusher down the road.
For this draft we'll be using the simulator at Pro Football Focus. Here are the house rules for mock draft 1.0:
Draft simulator: PFF.com, default settings
Trades: None
Theme: Positional value and best available player
Big Board: Neutral between PFF board and public
This draft started with a bit of a surprise with LSU cornerback Derek Stingley Jr. going No. 1 overall to Jacksonville. Three edge rushers (Michigan's Aidan Hutchinson, Oregon's Kayvon Thibodeaux and Purdue's George Karlaftis) went in the first nine selections. Seven edge rushers are off the board in total when it's the Chiefs' turn on the clock. Five wide receivers and four cornerbacks are gone as well.
North Carolina's Sam Howell was the only quarterback off the board at No. 16 to New Orleans. That could be useful for the Chiefs late in the first round if a team is interested in moving up to land a quarterback.
First Round, No. 29 overall: ED Arnold Ebiketie, Penn State
It's back to the future for the Chiefs in selecting an athletically gifted, tenacious pass rusher from Penn State who just needs a little polish. There are many similarities between Ebiketie and Tamba Hali, Kansas City's 2006 first-round selection, and that's a great thing for the Chiefs. Ebiketie spent four seasons at Temple before seeking a bigger challenge and transferring to Penn State. He had a breakout season for the Nittany Lions, collecting 9.5 sacks and 17 tackles for a loss. A little undersized at 6-foot-2, Ebiketie has a long frame much like Hali along with a strong motor and has earned praise for his maturity and attitude. Could become a leader in the Kansas City front four.
First Round No. 30 overall: CB Kaiir Elam, Florida
It's tempting to pursue the best draft value and nab George defensive tackle Jordan Davis to pair with Ebiketie inside, but the Chiefs need a corner and Elam is built to start in the NFL on day one. The 6-foot-1 Elam is an ideal fit for defensive coordinator Steve Spagnuolo's scheme and would allow the Chiefs to play aggressive man-to-man coverage outside when paired with L'Jarius Sneed. Elam doesn't have the production the Chiefs normally covet in college corners (six passes defended and one interception in 10 games last season) but has all the tools to succeed.
Second Round, No. 50 overall: WR George Pickens, Georgia
The Chiefs recently hosted Pickens on a visit, likely to further examine the torn ACL (March 2021) that kept him out of most of last season. At 6-foot-3, 200 pounds, Pickens is a natural X-receiver with strong hands and jump-ball abilities. He caught 90 passes for 1,347 yards and 14 touchdowns in parts of three seasons with only three drops. Durability has been the biggest knock on Pickens but his upside if healthy is sky-high. Matching him with JuJu Smith-Schuster, Mecole Hardman and Marquez Valdes-Scantling would be a deep wide receivers room in Kansas City.
Second Round, No. 62 overall: OT Abraham Lucas, Washington State
The only question mark on the Chiefs offensive line is at right tackle where Lucas Niang is returning from a serious knee injury and the Andrew Wylie is the incumbent starter. This Lucas is a 6-foot-6, 315-pound mountain and a natural right tackle who played 2,195 pass-blocking snaps for the Cougars according to PFF. He needs work as a run blocker but has early starting potential regardless. If he doesn't pan out as a starting tackle he also has potential at guard.
Third Round, No. 94 overall: S Bryan Cook, Cincinnati
Cook is a late bloomer who weighed just 165 pounds entering Howard University as a freshman before maturing into a 6-foot, 206-pound physical defender. He transferred to Cincinnati after two seasons and earned first-team All-AAC honors last season with 96 tackles, 11 passes broken up and two interceptions. The Athletic's Dane Brugler projects Cook as a potential year-one starter in his draft guide. "Cook has room to raise his consistency level in coverage, but he is an above-average run defender with the physical traits and overachieving attitude to see the field early and often in the NFL."
Third Round, No. 103 overall: ED Dominique Robinson, Miami (OH)
Just because this mock draft addressed defensive end in the first round doesn't mean the Chiefs should stop there. Depth remains an issue, however, and Robinson offers intriguing potential. He headed to Miami as a dual-threat quarterback, moved to wide receiver as a freshman and made another transition to the defensive line in 2020. He picked up 29 tackles including 8.5 for a loss and 4.5 sacks in his fifth-year senior season in 2021. Similar to last year's selection of Joshua Kaindoh, Robinson is a project who might need time to mature. His athleticism, however, makes him a pass-rush candidate with enormous potential despite the risk.
Fourth Round, No. 121 overall: DT Matthew Butler, Tennessee
The departure of Jarran Reed leaves an open starting position alongside Chris Jones on the interior of the defensive line. While Derrick Nnadi, Tershawn Wharton and Khalen Saunders are joined by free-agent addition Taylor Stallworth, the Chiefs need depth and an infusion of pass-rush potential inside. Butler was a team captain for the Volunteers last season, picking up 47 tackles including 8.5 for a loss with five sacks. He's not the most powerful interior defender but he has above average quickness and athleticism that should help him pursue the quarterback.
Fourth Round, No. 135 overall: WR Tyquan Thornton, Baylor
Thornton is likely one of the better-known projected fourth-round selections, thanks to the blazing 40-yard dash time of 4.28 seconds he posted at the NFL Combine. Most scouting reports downgrade Thornton for his thin frame, and at 6-foot-2, 181 pounds it's a valid question regarding how much weight and muscle he can add while maintaining his speed. He was productive as a pass catcher in the Big 12, hauling in 143 receptions for 2,242 yards and 19 touchdowns. He has some experience as a kick returner, and most NFL teams would like to see what he can offer in special teams play. A project player but worth a gamble, not unlike Tyreek Hill in the fifth round of the 2016 draft.
Seventh Round, No. 233 overall: TE Cole Turner, Nevada
Yes, the Chiefs chose Noah Gray in the fifth round a season ago but his seven catches for 36 yards and a touchdown didn't necessarily establish him as the heir apparent to Travis Kelce. Turner was a productive pass catcher for the Wolf Pack, hauling in 117 catches for 1,370 yards and eight touchdowns while earning All-MWC honors the past two seasons. He's a converted wide receiver but at 6-foot-6, 249 pounds he's closer in size to Kelce than Gray. He has very little work as a blocker but as a pass-first option at tight end he's intriguing.
Seventh Round, No. 243 overall: CB Kalon Barnes, Baylor
Almost no receiver in the league will be able to outrace Barnes, who turned heads with his 4.23-second 40-yard time at the NFL Combine. Scouting reports say Barnes relies too much on his speed and coverage but the potential is there if he can refine his game. His speed alone could be an asset on special teams. Might be a project but that's what seventh-round picks often are.
Seventh Round, No. 251 overall: LB Baylon Spector, Clemson
Spector struggled to climb the depth chart at safety for the Tigers but found his niche after moving to linebacker. He's a tweener at 6-foot-1, 233 pounds, and tweeners rarely pan out. He's a potential chess piece if he's a linebacker who can cover or a safety who can play in the box. Regardless his skill set should make him an exceptional special teams player for the next four seasons.
Seventh Round, No. 259 overall: WR Dai'Jean Dixon, Nicholls State
The Chiefs have 12 selections and use three of them on the wide receiver group? Sure, if you can get a reliable big target (Pickens), a speedster with a high ceiling (Thornton) and a ridiculously consistent and productive performer such as Dixon. He earned first-team All-Southland honors three times and was an FCS first-team All-American last year. He's the school's all-time leading receiver with 237 catches for 3,802 yards and 35 touchdowns. He doesn't have dynamic speed (4.62 seconds in the 40-yard dash) but gets the job done with smooth route running, strong technique and good hands. Hard to ignore that kind of production at any level.
Grading the Draft
PFF's draft simulator evaluates your performance as a GM, and this lineup received a B. PFF liked the selections of Elam (A), Pickens (A-), Butler (A) and Dixon (A-) but didn't like the choice of Robinson (F) and Thornton (D). That's a fair assessment since those two picks are based on upside potential more than production.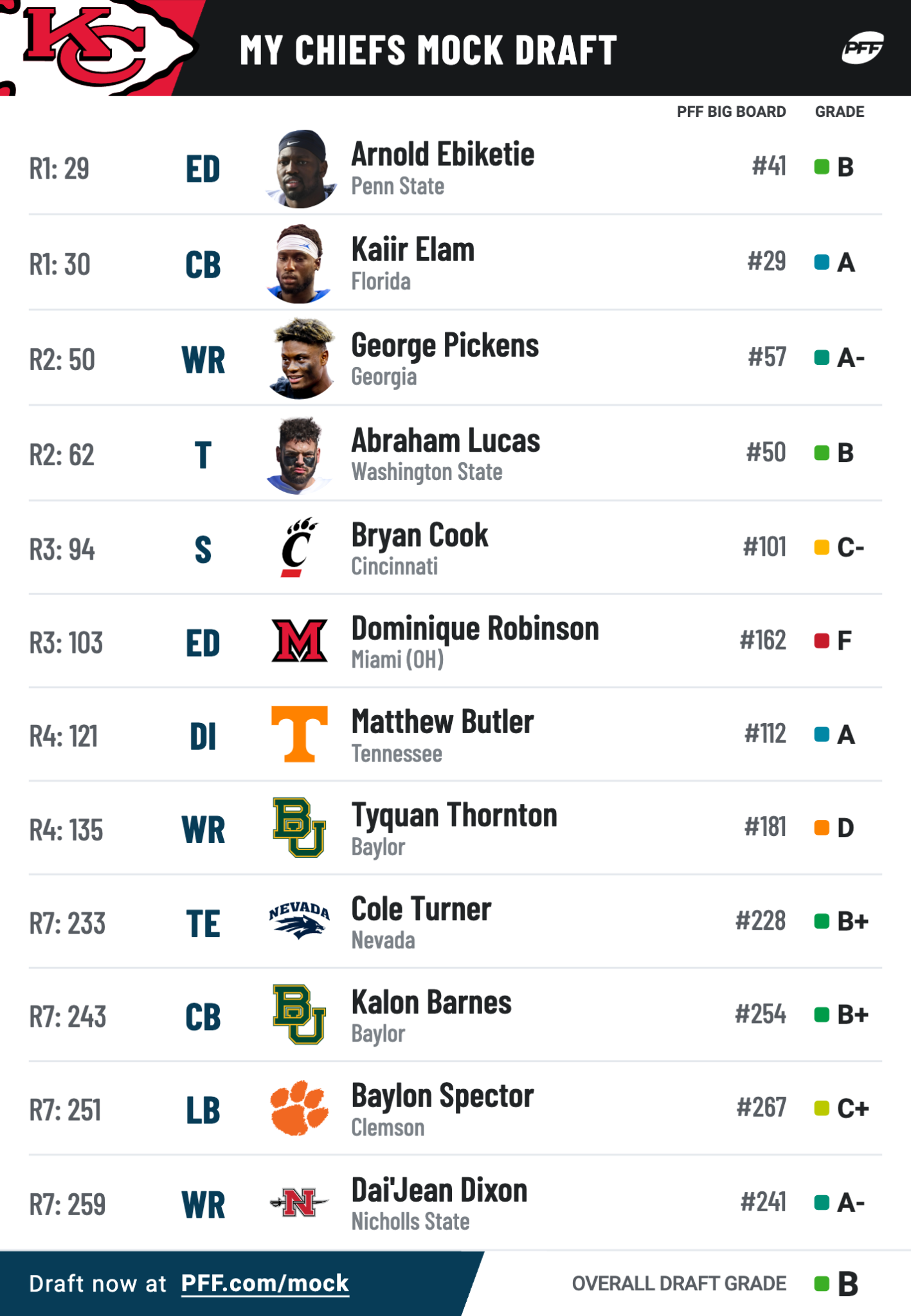 Lessons Learned
If the Chiefs want their pick of edge rusher, cornerback or wide receiver, they're going to need to make a move up the board. As this draft showed, there is a chance that players like Ebiketie and Elam could fall to the Chiefs, but in either case you're getting the No. 8 edge player and No. 6 cornerback off the board.
In this scenario, moving up to get an edge rusher is probably not a great idea. Jermaine Johnson II (Florida State) was the fifth edge rusher off the board at 15. Moving up to No. 25 would have given the Chiefs a choice of Michigan's David Ojabo or Minnesota's Boya Mafe.
There was also a run on cornerbacks in this scenario with three going in the top 10. Moving up to No. 23 could have nabbed Andrew Booth Jr. from Clemson. Would it be worth moving up for those choices? Getting into the top 15 would likely require giving up No. 29 and No. 30. Moving to No. 23-25, however, could be had for one of their first-round picks plus a third-round selection.
Another option is trading down, and this draft paints a scenario where that could happen. Only one quarterback went off the board before No. 29, and the Lions later took Pittsburgh's Kenny Pickett at No. 32. If Pickett, Malik Willis (Liberty) and Desmond Ridder (Cincinnati) remain on the board, the Chiefs might generate some interest from teams who want to move into the first round to get the fifth-year option for their new quarterback and jump in front of the Lions, who hold both picks No. 32 and No. 34.
Of course trader Brett Veach could get the best of both worlds and do both — move a first-round pick and a third-round choice to move up, then surrender the other first-rounder while picking up a second-round selection and fifth-round choice either this year or next year.